2 ton stationary hydraulic scissor lift
The stationary hydraulic scissor lift is equipped with manual hydraulic power, movable flaps for easy connection with surrounding facilities, rolling or motorized roller tables, safety touch strips to prevent rolling feet, organ safety guards, human or motorized rotary work. Table, hydraulic turning table, safety support rod to prevent falling platform, stainless steel safety net, electric or hydraulic lifting platform travel power system, universal ball table.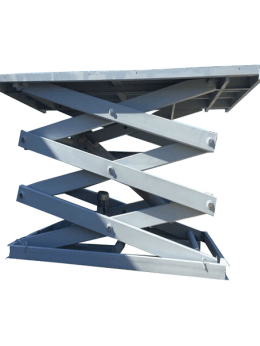 2 ton stationary hydraulic scissor lift is a special hydraulic lifting platform for transporting goods between the high floors of buildings. It mainly transports goods from various working layers; the car lifts in the three-dimensional garage and the underground garage.
The hydraulic system of the product is equipped with anti-falling and overload safety protection devices. The operation buttons can be set on each floor and the lifting table to realize multi-point control. The product has firm structure, large carrying capacity, stable lifting, simple and convenient installation and maintenance, and is an ideal cargo conveying equipment for economical and practical replacement of elevators between low floors. According to the installation environment and usage requirements of the lifting platform, different optional configurations can be selected to achieve better use results.
2Ton scissor lift table parameter:
| | | | | | | | | |
| --- | --- | --- | --- | --- | --- | --- | --- | --- |
| Model | Capacity(kg) | Min. Height(mm) | Lifting height(mm) | Platform size(mm) | Lifting time(s) | Motor power(kw) | Motor power(kw) | Weight(kg) |
| SJG0.8-1.2 | 800 | 300 | 1200 | 1200X1000 | 16 | 380V/50HZ | 1.1 | 420 |
| SJG1-1.7 | 1000 | 350 | 1700 | 1500X1000 | 28 | 380V/50HZ | 1.5 | 600 |
| SJG1.5-1.2 | 1500 | 350 | 1200 | 1500X1000 | 23 | 380V/50HZ | 3 | 650 |
| SJG1.5-2.4 | 1500 | 500 | 2400 | 2000×1000 | 25 | 380V/50HZ | 3 | 900 |
| SJG2-1.6 | 2000 | 500 | 1600 | 1500X1200 | 41 | 380V/50HZ | 1.5 | 860 |
| SJG2.5-2 | 2500 | 620 | 2000 | 2200X1200 | 40 | 380V/50HZ | 3 | 1300 |
| SJG3-1.2 | 3000 | 415 | 1200 | 1600X1600 | 30 | 380V/50HZ | 3 | 1100 |
| SJG4-2.3 | 4000 | 660 | 2300 | 2200X1000 | 53 | 380V/50HZ | 5.5 | 1500 |
| SJG5-1.5 | 5000 | 460 | 1500 | 1700X1000 | 50 | 380V/50HZ | 4 | 1450 |
Our Services
1. All the machines will be full tested before shipment
2. The total machine guarantee is 12 moths
3. 24 Hours technical support, email, telephone or video online
4. User-friendly english manual for machine using and maintaining
5. Several sets wearing parts will be free for you