Hydraulic scissor lift are classified according to their application, including manual hydraulic scissor lift table, electric-hydraulic scissor lift table, self-propelled hydraulic scissor lift, mobile hydraulic scissor lift, and stationary  lifting  platforms for sale.
At present, the mainstream of the market is hydraulically driven lifting. Due to its compact size, mobile transportation is widely used in logistics, warehouse management, libraries, supermarkets, and general small equipment manufacturing.
DFlift is a high-tech enterprise specialized in the production and sales of hydraulic scissor lift. We are mainly engaged in the production and sales of "DFLIFT" brand. And we have high quality and cheap price,strictly follow the ISO9001:2000 International quality system standard in the production process, and has passed CE certification.
Manual Hydraulic Scissor Lift Table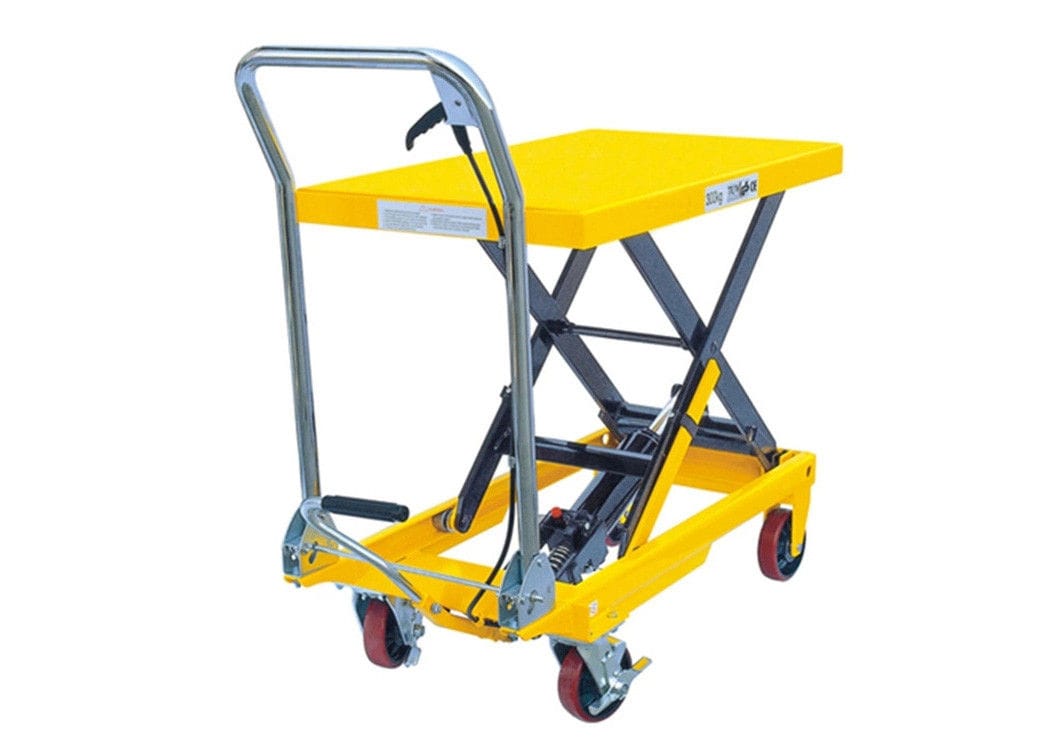 Capacity: 150~2000kg
Lifting height: 210-1700mm
Driving mode: Manual Type
Frame material: Q235b
Lifting methods: Foot pedal to lift up, electric lift
Travel methods: manual push
Table: can add the roller for rolling
The manual hydraulic Scissor Lift Table is made of high-strength steel, with reasonable design structure, stable and reliable, fully sealed oil cylinder, manual control hydraulic system lifting, easy and simple operation. It is equipped with a nylon guide wheel to save the operator's physical strength and protect the load wheel and the pallet load wheel. The hydraulic pump design, the pump is simple to maintain a desired height for the assembly and unloading operations of the assembly line; plus the ergonomic design, the operator is comfortable to operate.
1. Solid structure, high quality hydraulic cylinder, long service life, with overload relief valve
2, the pedal is lifted, the design is light, the lifting is fast, the pumping frequency does not exceed 45 times.
3, high quality handle, pull the wire handle down
4. High-bearing PU casters, 2 universal casters, and 2 directional casters. Among them, universal casters with brakes
Parameter:
Model

Platform Size

Lifting Range

Lifting Capacity

L*W*H

PT150

700*450*35

210-720mm

150kg

PT300

810*500*50

280-900mm

300kg

PT500

810*500*50

280-900mm

500kg

PT1000

1000*510*55

415-1000mm

1000kg

PTS150

700*450*35

305-1260mm

150kg

PTS350

905*500*50

350-1300mm

350kg

PTS500

905*500*50

360-1500mm

500kg

PTS800

1200*610*58

450-1500mm

800kg

PTS1000

1200*610*80

500-1700mm

1000kg

PTS350

900*700*50

350-1580mm

350kg

PTD500

1600*610*80

280-900mm

500kg

PTD1000

1200*610*80

380-1000mm

1000kg

PTD1500

1200*610*80

380-1000mm

1500kg

PTD2000

1200*610*80

380-1000mm

2000kg
Electric Hydraulic Scissor Lift Table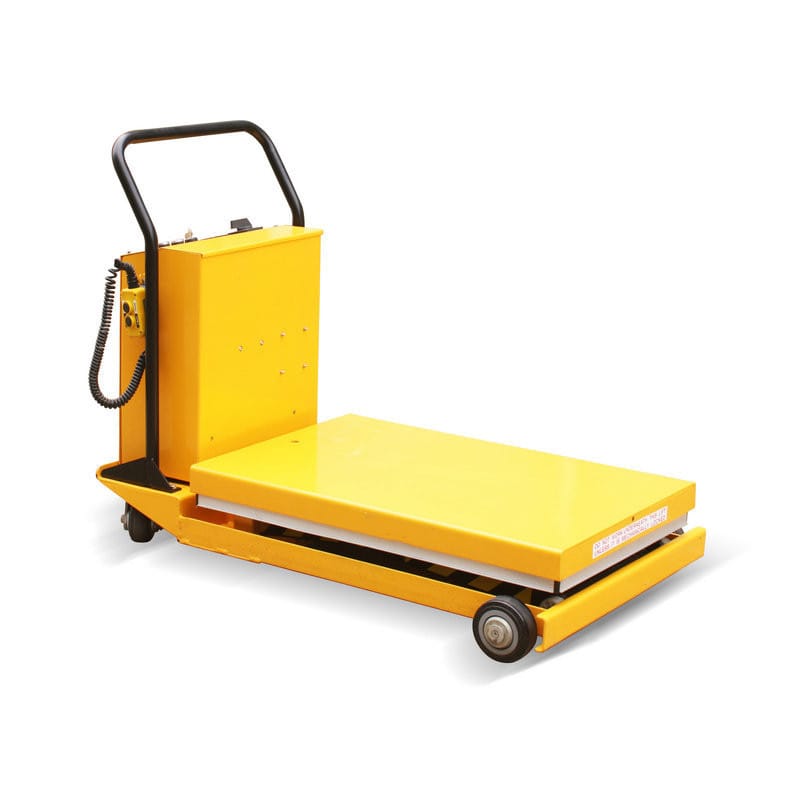 Capacity:150kg-1000kg
Lift Mechanism:Scissor Lift
Lift Drive / Actuation:Electric Motor
Power:0.8-1.6v
Min. Lifting Height: 210mm-500mm
Table Size:750x500x50mm-1200x610x50mm
Weight:110kg-290kg
Certification:CE/ISO9006
Product Name:Semi-electric roller table lift double scissor electric lift table
Power Source:Hydraulic AC pump/DF pump
Max. Height:700mm-1700mm
Min. Height:210mm-500mm
Dia. of the wheel:100-150
The electric hydraulic scissor lift table has novel design, reasonable mechanism and convenient use. It is suitable for loading, unloading, handling and stacking of barrels in factories, workshops, warehouses and oil depots. It is especially suitable for chemical industry, food workshop dumping or batching, and can load and unload heavy objects into cars, stacks, and hydraulic drum trucks. It can improve work efficiency, reduce labor intensity, and can be used for modification. Loading, unloading and lifting heavy objects is a new type of ideal multi-purpose loading and unloading machinery
With electric motor, the lift table/platform is able to be lifted by power. The lifting period is managed to be with in 10 seconds. DFlift is capable to manufacture typically up to 3 meter e-lift table and at the same time make it stable with the stabilizers.
Besides, the capacity of them is basic sufficient for all kinds of working condition, others such as colors and protection fences are all available to be customized.
Parameter:
Model

DP150

DP 300

DP500

DP800

DPS350

DPS1000

Load capacity(kg)

150

300

500

800

350

1000

Min.height(mm)

210

280

280

410

360

500

Max.height(mm)

700

900

900

1000

1300

1700

Table dimensions

(mm)

750x500x50

950x500x50

950x500x50

1016x510x50

905x500x50

1200x610x50

Dia.of the wheel

(mm)

Φ100

Φ125

Φ125

Φ150

Φ125

Φ150

Voltage(V)

12

12

12

12

12

12

Power(kw)

0.8

0.8

0.8

0.8

0.8

1.6

Storage battery

(Ah)

65

60

60

65

60

120

Charge input

voltage

220/110

220/110

220/110

220/110

220/110

220/110

Net weight(kg)

110

110

110

150

140

290
Hydraulic scissor lift table roller top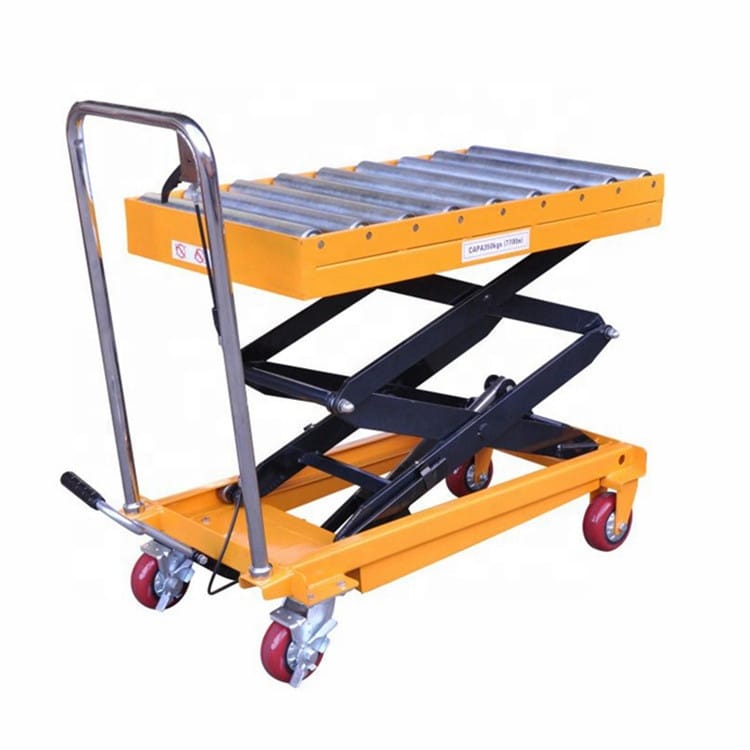 1. Welded all-steel frame with Powder-coat finish for maximum durability and protection.
2. Roller top permits easy movement of cargo for loading and unloading.
3. Convenient foot pump for easy lifting and lowering.
4. Dual-Cylinder design.
5. Overload protection ball valve prevents lifting loads past maximum capacity.
6. Steering casters with brakes.
7. Removable chromed handle frame is both attractive and durable.
8. Double scissor lift provides additional lifting height.
Parameters:
Model

Capacity(kg)

Min.height(mm

Max.height(mm)

Table dimensions

(mm)

Total length(mm)

Hand length(mm)

Net weight(kg)

Package size(mm)

TF15

150

210

730

700*450*35

880

890

43

820*460*260

TF30

300

290

900

820*500*35

1070

970

75

1000*520*300

TF50

500

390

900

820*500*35

1070

970

85

1000*520*400

TF35

350

405

1300

905*512*55

1170

970

103

1000*520*350

TF75

750

360

1000

1000*512*55

1170

1020

109

1270*530*380

TF100

1000

410

1000

1000*512*55

1350

970

116

1160*600*420

TF50MB

500

360

1280

750*550

1030

1000

109

1780*820*300
Fixed Type Hydraulic Stationary Mechanical Scissor Lift
Fixed Type Hydraulic Scissor Lift Platform is used to convey the material or cargo from ground to upper floors,which can installed in the pit, do not occupy space when it is closed. In addition, for this scissor lift platform, many customers use it in production line or docks, so it can be fixed directly on ground floor.It is a kind of hydraulic elevator specially designed to lift cargo in storerooms,factories and warehouses.
The fixed lift is a special hydraulic lift used to transport goods between buildings. The products are mainly transported up and down between various working layers: three-dimensional garage and underground garage with high-rise car lift, etc. The product hydraulic system is equipped with anti-falling and overload safety protection devices, and operation buttons can be set on each floor and lifting table. Implement multi-point control. The product has firm structure, large carrying capacity, stable lifting, simple and convenient installation and maintenance, and is an ideal cargo conveying equipment for economical and practical replacement of elevators between low floors. According to the installation environment and usage requirements of the elevator, choose different optional configurations to achieve good results.
According to different needs, there are many special fixed lifting platforms: spherical fixed hydraulic lifting platform, roller fixed lifting platform, automatic plate fixed lifting platform.
Self-propelled Hydraulic Scissor Lift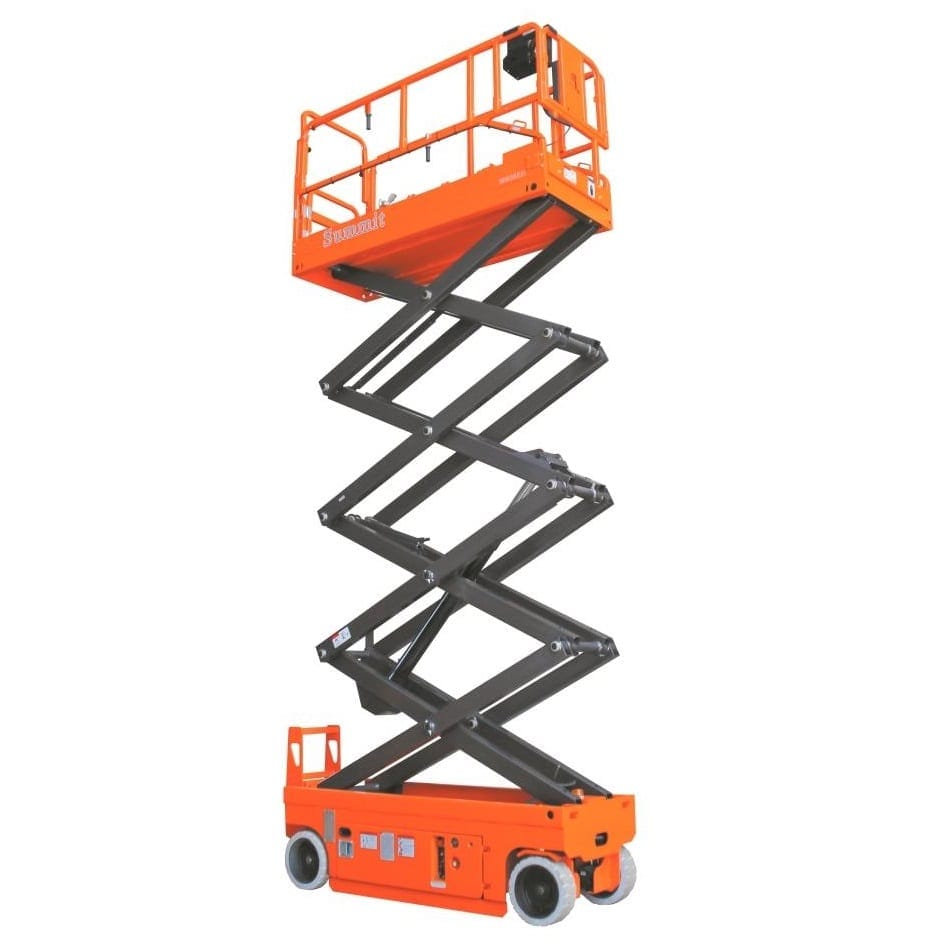 The self-propelled hydraulic scissor lift is a versatile special equipment for aerial work. Its scissor mechanical structure makes the lifting platform have higher stability, wide working platform and high carrying capacity, which makes the working range of aerial work larger and suitable for multiple people to work at the same time. The lifting power is divided into 220V or 380V power supply, diesel engine, or battery power source. Explosion-proof pumping station and explosion-proof electrical equipment can also be used in special environment. It is 4 to 12 meters high and has a load of 0.3 tons. It adopts Italian and domestic hydraulic pumping stations. The countertops use anti-slip insulation gussets, which are non-slip, insulated and safe. Please feel free to use them. It makes aerial work more efficient and safer.
Self propelled scissor lift Performance:
  Reliability and Versatility,Efficiency
   1、Excellent mobility
       Compact body can easily pass through single and double channel doorway,using non-marking solid tires.
    2、Special locations
       Feature of low noise is perfectly suitable for the noise-sensitive environment,such as office buildings,
       shopping mails,hotels,schools,etc.
    3、Compact and flexible
       Can be easily and flexibly operated in crowded working conditions such as construction site,elevator
       narrow corridor.Lift-up,lift-down,turning,forward,and backward movements can be easily operated by
Mobile Hydraulic Scissor Lift Platform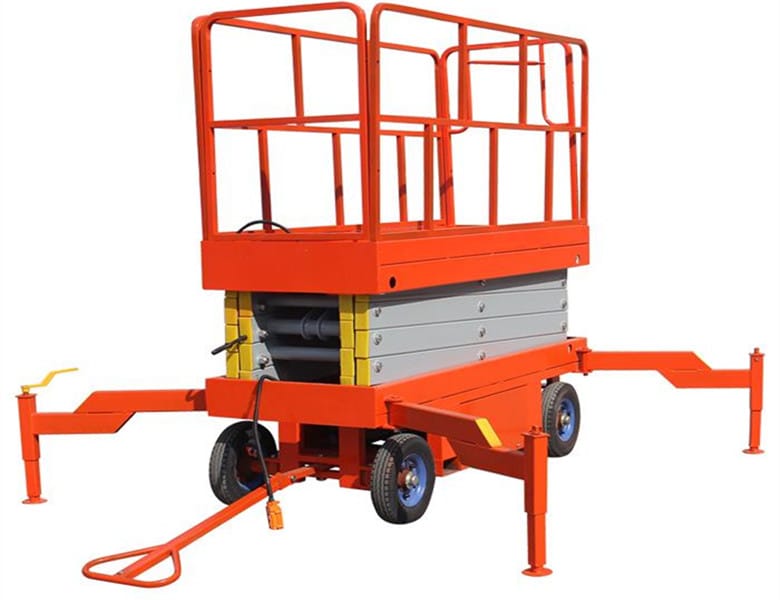 Mobile Scissor lift is mainly used for lifting cargos and delivering goods,high-altitude operations. Mainly used to installing, repairing and cleaning high aerial equipment,power equipment, overhead pipeline and so on.It is widely used to workshop building site, hotel, airport, station.
Parameters:
Mobile Hydraulic Scissor Lift Platform

Model

Capacity(kg)

Table Size

Lift height

Work height

Overall Size(mm)

Net weight(kg)

WLY0.3-14

300

2950*1500mm

14m

15.7m

3250*1950*1970

3000

Material

Application

Voltage

Warranty

Customer design

Color

High-duty Steel Structure

Aerial Work

Optional

1 year

Available

Optional
Our advantage:
√  whether your customer uses it indoor , outdoor or on          rough terrain,offers excellent high,low and horizontal reach maneuverability
√  plus, we offer power options to fit nearly any application
√ we offer options and accessories,including parts,that add to the quality you receive,when you choose use
WHY CHOOSE US
10 years manufacturing experience in hydraulic lifting industry.
Do you know what is it makes us walk such far?
1.Competitive price
We are the manufacture,and have lots of orders from domestic and foreign each year,so we can purchase the 
raw material with much cheaper price which will directly effects the price of the lifting machines. 
2.Reliable quality
a.Material used.The thickness of the rectangular tube is 5mm which make the whole machine more steady and durable.
b.Oil Paint. The oil paint we used meet international standard which looks more bright and smoothly, also not 
easy to remove or come off. 
c.Tyre used.We use solid Tyre instead of pneumatic Tyre which can adapt to variety of road conditions.
3.Good service
We assure you reply the email within 24 hours.
We assure you 12 mouth quality warranty time. 
4.Keeping innovations 
We welcome every recommendation and opinion from you and make progress together with you.
We can design a new machine as your requirements,until to your satisfaction.