2 meter scissor lift:
Parts Introduction
1) Platform table: anti-slip checkered steel plate
2) Scissor structure: Manganese steel rectangular tube
4) Control equipment : Delixi, Siemens or Schneider brand.
5) Pump station: Italy Hydraulic or Sino-italian brand.
6) Hydro cylinder:high precision wear-resisting hydraulic cylinder with locking device for fall protection.
7) Obturating ring: Brand German Seal (made in German) or Japan VLQU Seal
 Control
1) Electrical up-down control device, or manual control when the electricity Is not available.We can also install the remote control device according to your requirement.
2) The remote control and multi-control points at the different floors could be realized at each control point. Lift up, Stop and Lower down can be realized at each control point.The lift platform could stop at the accurate location point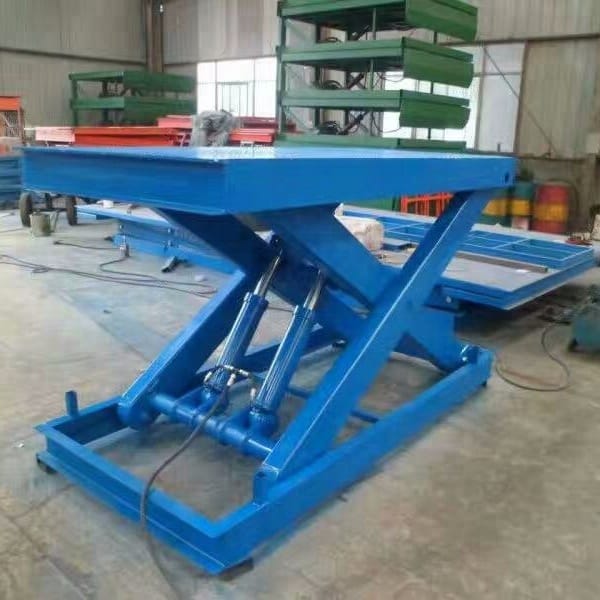 2 meter scissor lift parameter:
Rated Loading Capacity: 500kg-40ton
Max. Lifting Height: 1000mm
Type: Electric hydraulic
Power supply: three-phase alternating current
Table size: specified by customer
Safety
1) In special circumstance, the machine will use explosion-proof electric equipment.
2) The work table can be  equipped the guardrail to guarantee safety.
3) The lift can be installed hydraulic overload protective device.
4) Spillover valve: It can prevent high pressure when the machine moves up, to adjust the pressure.
5) Emergency decline valve: it can go down when you meet an emergency or the power off.
6) The machine is equipped single control solenoid valves to prevent the platform dropping if power failure.