32 foot (10 meter) scissor lift:
32 foot (10 meter) scissor lift is widely used in places and applications such as factory plants, railway stations, highways, airports, petroleum company, power grids, halls, hotels, overhauling, chemical engineering, medicines, army troops, nuclear power industry, fire fighting, stadiums, community property management and etc. 
We are a professional and experienced leading machinery manufacturing company in China since 2009.
Our products mainly include: Hand pallet trucks, semi-electric pallet trucks, full electric pallet trucks, manual staker, semi-electric staker, full-electric staker, electric hydraulic lift table, hand lift table, electric scissor lift platform, aluminium aerial work platform, hydraulic drum lifter, tail lift, dock ramp, cargo lift etc.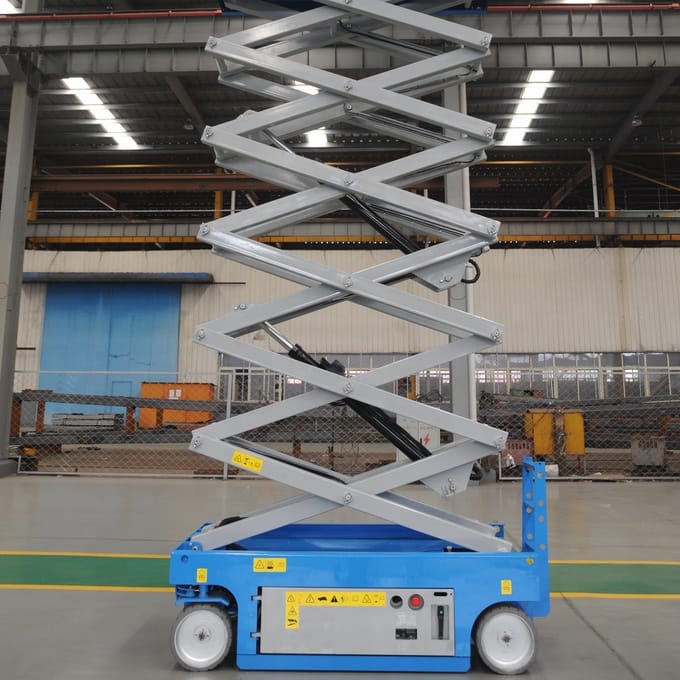 32 foot (10 meter) scissor lift parameter:
Rated Loading Capacity: 320kg 480kg
Min. Lifting Height: 800mm
Max. Lifting Height: 32 foot (10 meter)
Lift Drive / Actuation:
Hydraulic electric
After-sales Service Provided:
Field installation, commissioning and training
Platform:
Anti-skid Checkered Plate
Voltage:
110V, 220V, 380V, customized
32 foot (10 meter) scissor lift product features
The series of products all use high-efficiency battery power source, pollution-free five rows of houses, low noise electric pump, even in the area of high environmental requirements can be used, such as office buildings, hotels, hospitals, schools and so on
32 foot (10 meter) scissor lift adopt full scale handle control, no matter lifting or walking, all realize in the handle control, the operation is simple and quick.
In situ rotation, so that users in a narrow space to use, but also convenient to change the location.
The series has two walking speeds to ensure that the device moves quickly and safely while ascending.32 foot (10 meter) scissor lift platforms are equipped with extended platforms, making the operation easier to access the construction site and breaking through the space barrier.