Fixed Type Hydraulic Stationary Mechanical Scissor Lift is generally used for lifting cargo and people to working place, loading and unloading goods from ground to underground or other floors. The load capacity is various depending on the different working height from 100kg to 5 tons. Lift height can be 1m to 12m,and table size can be custom-made. The Control system and working voltage can be changed to client's requirements, such 220V,380V,415V,etc.
Stationary scissor lift: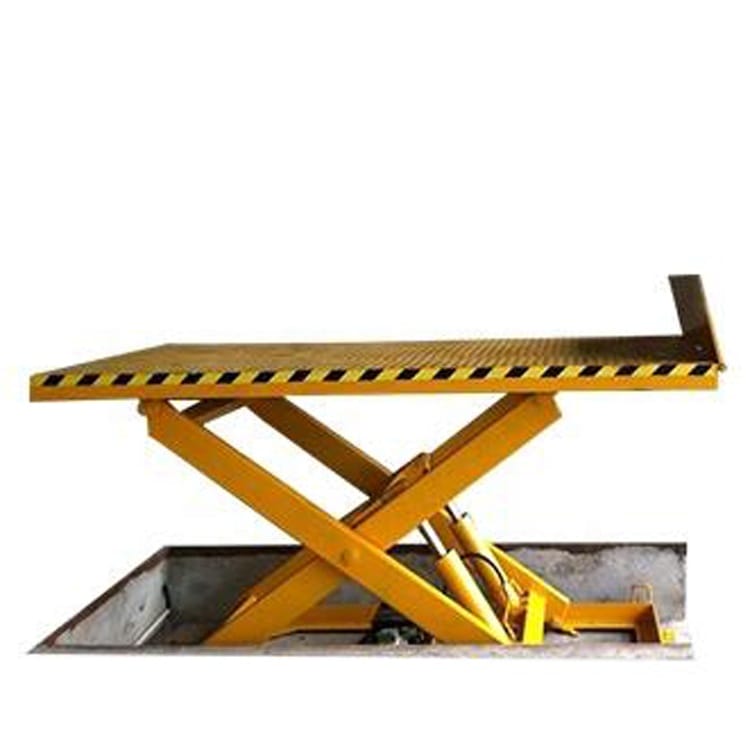 Rated Loading Capacity: 500kg-40ton
Max. Lifting Height: 6m
Type:
Hydraulic
Power supply: three-phase alternating current
Table size: specified by customer
Stationary scissor lift specification:
Max Platform Height

2m

2.5m

3m

3.5m

4m

Lift capacity

3000kg-10,000kg

Speed

70mm/s

Max platform size

3000*6000mm

Installation space(Pit size)

(Platform Width+300mm)*(Depth+60mm)

Closed height

550mm to 800mm

Access direction

180° through type

Control ways

Platform control, main control box

Surface finishing

Powder coating

Color

Available in Blue, yellow, red, dark color

Package

One 20ft container

Installation type

Pit mounted

Working pressure

≤13Mpa

Drive mode

Hydraulic cylinder

Control mode

PLC control

Control voltage

24V DC

Voltage

three-phase alternating current

Foundation requirement

1.      Concrete thickness≥300mm

2.      Concrete strength≥C20 (200Mpa
Stationary scissor car lift:
Stationary cargo lift is a special hydraulic lift cargo transported, mainly used in warehouses, garages, workshops, and a variety of work-storey transport layer, put down the goods. Has broad applicability. Carrying capacity, lifting safe and stable.Easy installation and maintenance, is economical and practical ideal cargo transportation equipment.
Configuration:
1) Platform Material: rectangular tube +checkered iron
2) Scissor material: high strength Manganese Steel.
3) Hydraulic system: 220v,380v or as clients requests.
4) High Precision Hydraulic Cylinder.
5) Piston Rod: hard chromium plating surface.
6) High-pressure oil pump
7) Hydraulic oil: summer 46#, winter 32#
8) Controller: 1 control box below, 1 control panel above platform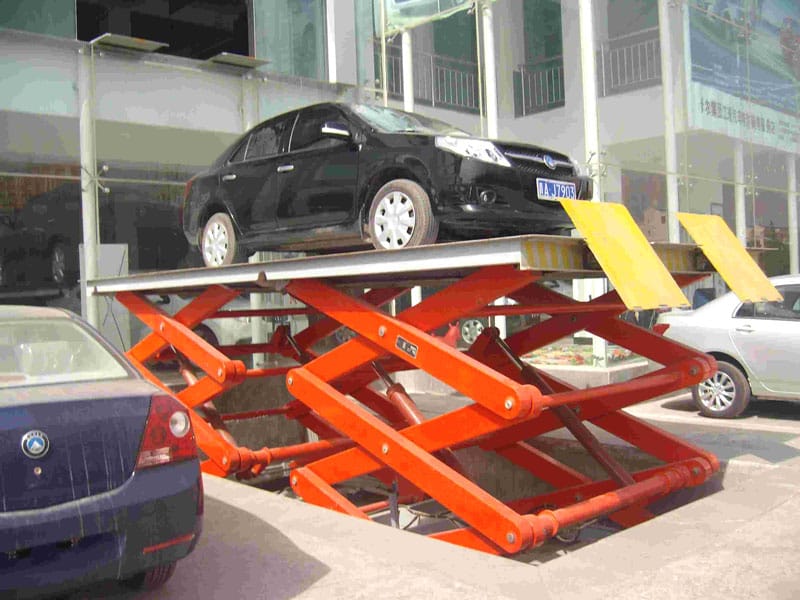 Lifting weight: 3500 (kg)
Rise time: 50 (s)
Lifting height: 1750 (mm)
Power supply: 380 (V) 220V 415V
Stationary double scissor lift: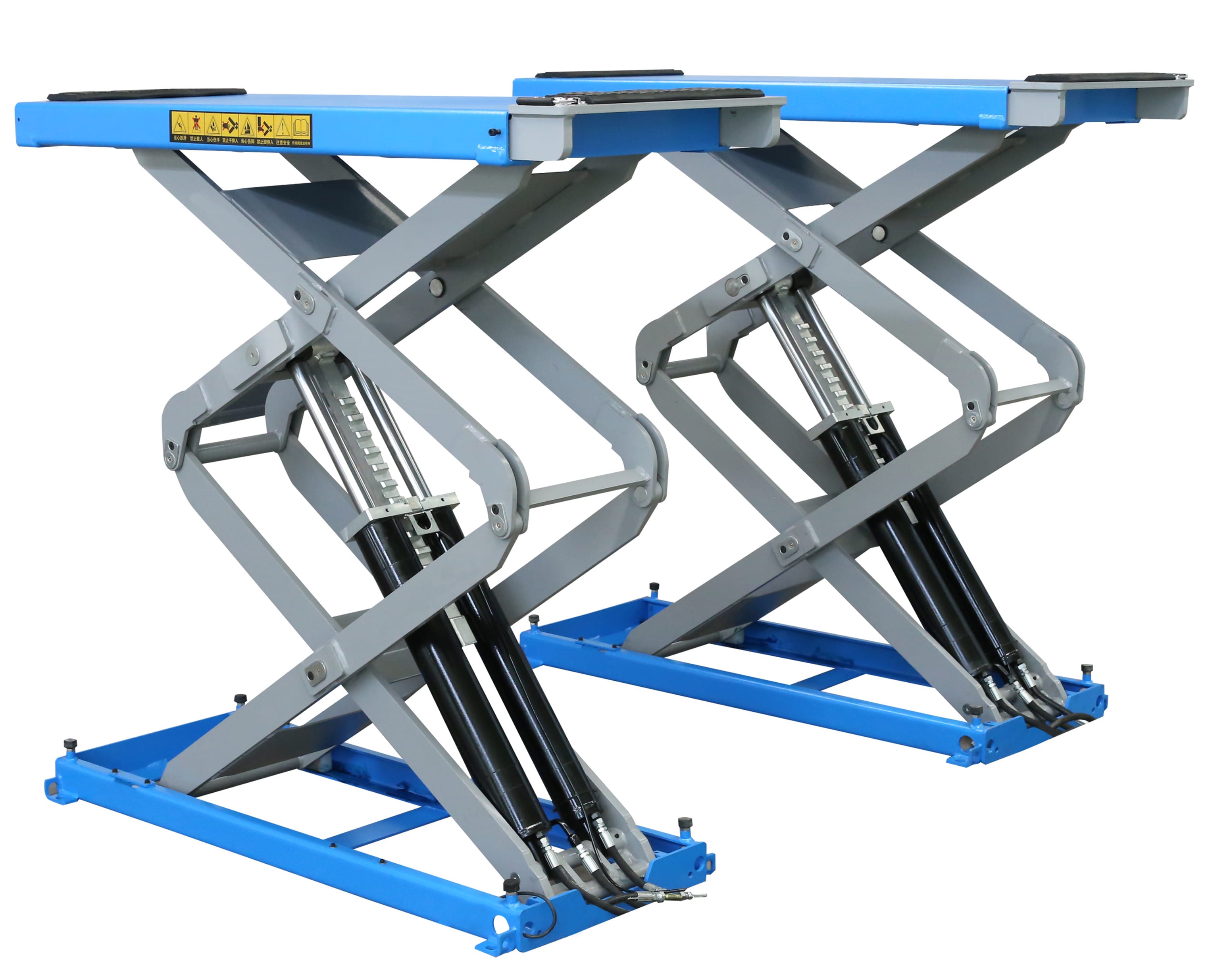 Rated Loading Capacity: 500kg-40ton
Max. Lifting Height: 6m
Type:
Hydraulic
Power supply: three-phase alternating current
Table size: specified by customer
Tilt scissor lift: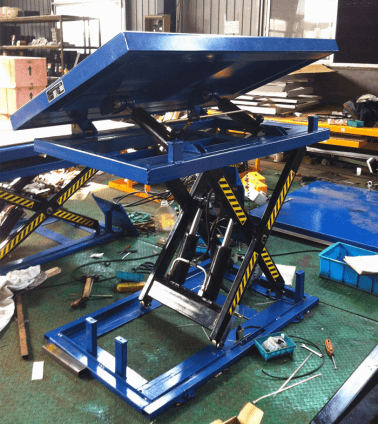 Type of overturned fixed lifting platform:
Rated load: 500kg- 5 ton
Maximum lifting height: 8m
Tilt/cartwheel Angle: 45 degrees
Power supply: three-phase alternating current
Our company covers an area of 66,600 square meters and have over 300 employees with complete production team, sales team, technology team, logistics team and management team.
We mainly produce hydraulic jack, car lift and wheel alignment with various capacity.
We have achieved the certification of IATF16949 & CE to meet customers quality request and which also help us to open great market in North & South America, South Korea, Japan, South-eastern countries, Australia, Europe & Middle-Eastern countries.
Here, we warmly welcome to visit our company and expect our long-term cooperation.
Car lifting platform is a special hydraulic lifting machine to vertical transport vehicles, it is mainly used in all kinds of transportation between differents floors in a building, such as building parking, auto 4s shops, etc. Especially suitable for low-rise building.
It is the safety and ideal Automobile transportation equipment.
It is suited to ascension large load, high safety performance, steady lifting, simple and convenient operation.
It is simple apply to a variety of architectural design, it can save building space without top room location.
Why did you choose ours stationary scissor lift?
The wide range of stationary cargo scissor lift is mainly used in the production line height difference between goods transport; Material on-line and off-line; Adjust the height of work piece during assembly. High feeder feeding; Lifting of components during assembly of large equipment; Large machine tool feeding and discharging; Storage and handling places and forklifts and other vehicles supporting the rapid loading and unloading of goods. Stationary scissor lift can according to the use requirements, it can be equipped with accessory devices for any combination, such as the safety protection device of fixed scissor lift platform; Electrical control mode; Work platform form; Dynamic form etc.